ABOUT SCC BUILDERS PVT. LTD.
Established in 2004 by two common, but self-motivated individuals, SCC Builders Pvt Ltd has reached a new height of success today. One of India's dominant real estate players, SCC Group has number of reputable figures in its cart. The showcase of housing development incepted when Vinod Goswami, CMD, SCC Group partnered with Vipul Giri, CEO, SCC Group and laid the foundation. Mr. Vinod Goswami, one of the two pillars of the organization already had vast experience in trading and transporting materials and when his hands joined with expert hands of Mr. Vipul Giri, a charisman was produced called SCC Builders.
The notion behind the establishment of real estate projects was to bring "A Home for All", a Government of India's initiative and "Home That Makes Your Lady Happy" to life. Shopping arcades were envisioned for the benefit of those shoppers who wants to have a happening terminus to shop and hangout.

Today, SCC Group has developed 5 projects pronouncing its eminence. We have developed our projects in Delhi and NCR regions. Our leading housing projects reside on the bank of Hindon River and they are capitalized as "SCC Heights" and "SCC Sapphire". Our commercial projects, "SCC Arcade" and "SCC BIZ Plaza" are two well developed establishments.

Our vision states "equality to everyone". Our thoughts are simple and sophisticated and try to develop architecture suiting to everyone's need. We build residencial and commercial infrastructure where any one can live and achieve their requirements.

Our goals define our mission and we are here to continue the process with efficiency. We have satisfied customers, but we wish to make more and more people happy with our service.

Our values lie in simplicity and affordability. We try to represent what we are and what we think. We try to build residential and commercial spaces reachable to every consumer.
At the helm of the affairs at SCC Builders are two partners with a common vision and experience of over 25 years in real estate. Sound financial background and rich experience of Indian reality market makes them one of the front-runners in reality sector of Delhi-NCR. Sh. Vinod Goswami, the Chairman has over 25 years of experience in Real Estate. His vision to enter into a core sector business of housing construction has yielded fruitful results for the company. His aptitude for excellence has created highest business standards, which are appreciated by competitors as well. Sh. Vipul Giri, the Managing Director has over 15 years of experience in Construction and Real Estate. His career has traversed as a Manager, Entrepreneur and now as the Managing Director of a company devoted to provide basic necessity to mankind, "a home".

They are aided by a well qualified and technically experienced team of Marketing & Sales personnel, Civil Engineers & Contractors, Skilled and Semi-skilled Carpenters and labourers etc.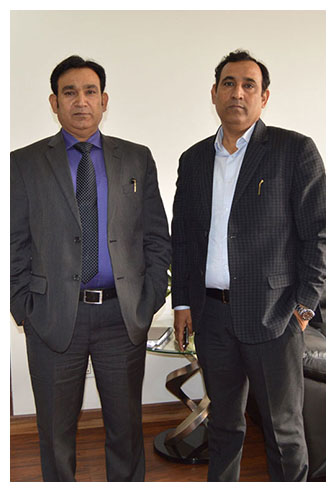 Our Projects
SCC group has numbers of successfully completed housing projects in Delhi/NCR. Happy & Satisfied Customers are the epitome of our quality and customized service.
Our Vision
We vision to built homes for everyone and become world's premier and leading real-estate company.
Our Mission
To achieve the honor of healthiest real estate concepts provider blended with the highest degree of professionalism, quality, work ethics and customer service.
Our Values
Consistent endeavor to elevate customer's expectations and values. Input of professional and customized service. Paying respect to homey, legal and environ requirements.
SCC Group, founded in 2005, has set new trends and benchmarks of architectural excellence in the contemporary global scenario.

AN ISO 9001:2008 & 14001:2004 CERTIFIED COMPANY, SCC Group has successfully completed 7years in real-estate business and today it has revolutionized the real-estate arena.
SCC group believes that harmony between the man and his environment is the prime essence of healthy life and living. The sustenance of our ecological balance is therefore of paramount importance. The Group recognizes its joint responsibility with the Government and the Citizens to protect and preserve the environment.

The Group is thus, committed to making its operations environmentally acceptable, on a scientifically established basis, while fulfilling customer's requirements for excellent quality, performance and safety. As such, the group has evolved an Environmental Policy the aim of which is to do all that is reasonably possible to prevent or minimize, the risk of an adverse environmental impact arising from our business operations while working with, in and around the Nature.

The Environmental Policy reflects the continuing commitment of the Management and Employees for sound Environment Management of its operations. The Policy applies to bidding, sub-contracting, designing, planning, execution, testing, delivering service or a product to the customer and handling complaints, if any. The Policy is thus applicable to all the companies, subsidiaries, associates and affiliate companies of the Group.